Many companies struggle to keep up with aggressive timelines, manage a complex technology landscape, and translate business goals into IT directives. In an endless loop of short-sighted decision-making, organizations are often trapped in a reactive instead of proactive mentality. To overcome these challenges, businesses must identify and implement a solid data and IT strategy.
In this blog post, we will share a few tactics from Michael Moskal, OSTHUS Director of Operations, so you can develop your very own data-centric approach.
Tactic #1: Before you even think about strategy, first identify your challenges
Moskal conducted a recent survey to identify some of the most common problems that companies like yours face today. It's no surprise that terms like data, automation, and digitization were some of the most frequent themes across the board.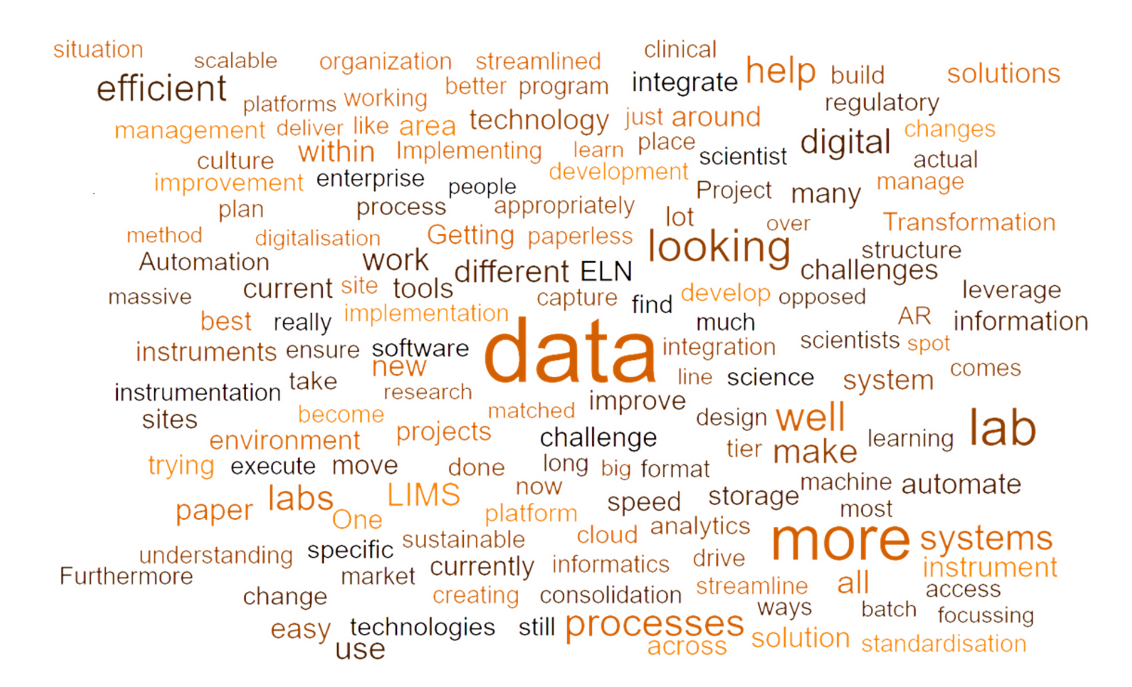 Digitization, or the process of moving from paper batch records to digital systems and workflows, is a universal issue for those moving toward a digital future. Not to mention that to keep up with competitors, companies must prioritize automated lab data integration for viewing, retrieving, and analyzing data. Such herculean tasks leave most businesses feeling like they need a digital hero (or at least an Atlas) to keep their increasingly complex and massive datasets from crushing them. However, most of us have to be our own heroes, so how do we move forward from here?
Tactic #2: Divide your challenges into manageable tasks
Just like you eat an elephant one bite at a time, you must split up your challenges into bite-size pieces. For example, let's say you are trying to migrate your on-premise systems to the cloud. You can split up this challenge into three (or more) parts:
Harmonization of global activities: how to get processes to run similarly (particularly across the US and Europe).
Centralization of data: moving away from data silos into some form of a centralized platform.
Data and ontology modeling to support the creation of high-value business assets.
Or maybe a different challenge hits closer to home. In a recent OSTHUS poll, companies reported that their most important goals when developing a corporate strategy are improving investment decisions and managing risks.
If you also struggle to manage risks, you can divide the challenge into three parts:
How do we model and assess risk?
How can we improve internal and external reporting?
How can we manage cost?
As you continue to separate your challenges into tasks that you can tackle today, you will find yourself carving a path toward your own digital future.
Tactic #3: Cultivate a culture of data-centricity
According to Michael Moskal, being data-driven simply means "moving away from technology being on the pedestal and placing data right up front." He asserts that true change must come from the company culture before it can truly function as a strategy.
A data-centric company:
Embraces new technology.
Ensure data is always a part of the decision-making process until it becomes automatic for all employees.
Prioritizes FAIR data.
Builds data literacy by training employees to interpret and glean insights from stats.
To truly cultivate a data-centric culture, all employees must understand and embrace data as an integral part of the business – not as an after-thought.
Tactic #4: Don't be afraid to delegate
Your digital transformation requires you to juggle many moving parts--what if you didn't have to juggle alone?
At OSTHUS, we believe that the combination of your domain knowledge with our R&D expertise can accelerate your digital transformation, no matter where you are in your journey.
Our adaptable offering of consulting and solutions is centered on what we consider the four most important pillars of digital transformation:
Data governance: we help you apply a standard set of principles and practices that ensure high quality data throughout the entire R&D process.
Data and IT strategy: we ensure that the proper technologies and processes are applied in a controlled fashion.
Lab informatics: we improve your digital processes with the latest IT systems and integrations.
Advanced analytics: we improve the findability, availability, interoperability, and reusability of your data, so you can turn your data into knowledge.
Our services will replace uncertainty with confidence, short-term focus with long-term vision, and reactivity with proactivity.
Jumpstart your digital transformation today.
Whether you decide to tackle your challenges alone or collaborate with a partner like OSTHUS, applying these tactics will enable new business capabilities and accelerate time-to-market.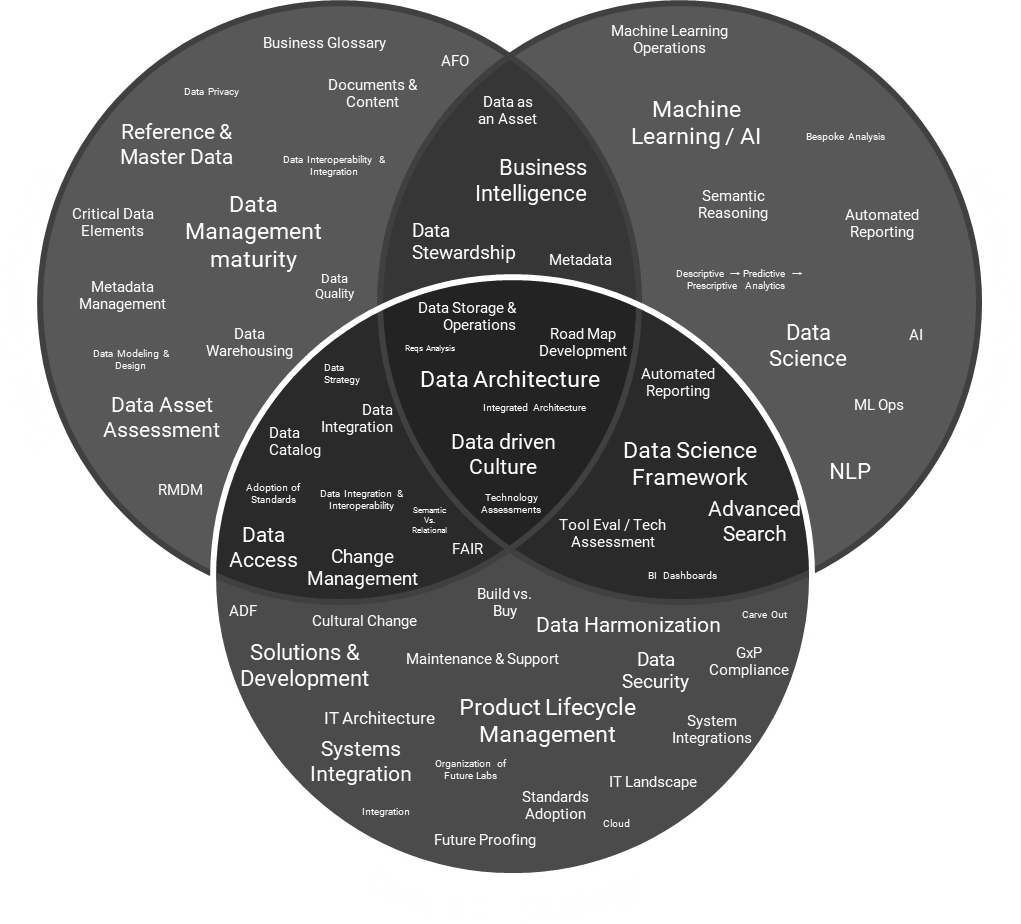 For more information about how OSTHUS can help you on your digital journey, check out our website.