Data is now a business asset; as algorithms control every aspect of our lives these days, most businesses are becoming data businesses. According to our recent LinkedIn survey, 71% of respondents prioritize "Defining a Data Strategy."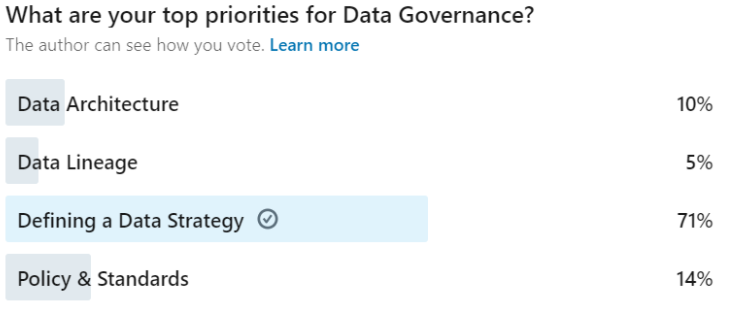 Fig1: Results of a LinkedIn survey on the top priorities for Data Governance.
Although it's clear to most companies that their success depends on data management, they often take an oversimplified approach to this challenge, never moving beyond IT implementations. It seems the prevailing perception among business executives is that data and analytics are purely IT matters. While the IT team may cover data storage, ownership, and integrity, the strategic use of data to reach long-term goals remains ignored and neglected.
To avoid the pitfalls of a "just leave it to IT" data strategy, we will discuss why data strategy is so important to your business, how you can leverage data as an asset, and the essential components of an effective data strategy.
Why you need a data strategy
A company without a data strategy is like a company that allows every person in every department to develop its own financial chart of accounts. This leads to dirty, redundant, inconsistent data that is nearly impossible to access or integrate. In addition, the absence of a strategy gives a blank check to those who want to pursue their own agendas, including attachment to certain technologies. The IT people in the organization have no guidelines for making decisions that are crucial to the success of the IT organization. Without the ability to leverage data, performance suffers and customers become increasingly dissatisfied. A company without a data strategy lives in chaos, and in the resulting disorder, no one is directly accountable to fix it.
Valuing data as an asset
The success of a company's data strategy depends on how they treat their data. Defining (and agreeing) on the actual value of data for an organization has proven difficult, but a study by Dr. Margaret Blair from Brooking Institution revealed that from 1978 to 1998, the perceived business value of intangible assets increased significantly (see fig below). Since data is considered intellectual property, or an intangible asset, we can infer that the perceived value of data has also increased significantly. Additionally, researchers have concluded that the best approximation of data is based on future cash flow.
Because data management a long-term solution that remains in perpetuity, cost justification is an absolute requirement to sustain the management commitment required to protect it from cost cutters and tactical solutions that would undermine it. Gartner's concept of "Infonomics" suggests that firms should keep an internal balance sheet to track the value of their data assets. This promotes greater accountability, allows companies to measure IT effectiveness, and provides justification for the cost of information systems. As companies treat their data as an economic asset, they will increase revenue, improve operations, reduce risk, strengthen customer relationships, and solidify their competitive edge.
Fig2: Growth in Intangible Asset (Reference: Modern Data Strategy by Mike Fleckenstein)
Your data strategy vision
A company's data strategy vision should conform to its business goals and overall IT strategy. Business strategy exists to maximize profit, minimize cost, and manage risk. This does not necessarily translate into spending the least amount of money possible or making the most amount of money without contextual awareness. Ideally, a data-savvy executive would provide this context as they oversee the company's data strategy; when that's not an option, a data strategy team would suffice as long as it includes at least one data person (e.g. Chief Data Officer) in addition to process and technology people.
Because data management maturity varies across in an organization, it's imperative that the Chief Data Officer builds a strategy with a Data Management Maturity Model in mind. To learn more about maturity models, check out my article called "The Importance of a Data Management Maturity Model for Your Organization."
No matter what structure works best for your organization, your data strategy should be overseen by data people who understand exactly how data drives business—someone who knows the entire data lifecycle and all data processes like imports, updates, integration, sharing, reporting, and analytics.
Components of an effective data strategy
An effective data strategy should include the following:
An activation and implementation approach that includes Data Domain identification, data policy compliance, and governance. The high-level business strategy should be documented.
Define the company's guiding principles on data accountability, authority, usage, governance reporting, definition, identity management, lineage, discovery and access, solution design and implementation, quality, security, archival, and retention.
Data governance organization that includes roles, bodies, and processes for running the data governance framework.
Data architecture including reference and master data management, critical data elements, identity management, lineage, discovery and accessibility, and solution design and implementation.
Data quality strategy that contains data quality control, issue management, monitoring, dimension, and organization.
Data strategy monitoring and compliance with periodic risk and internal assessments led by data councils. Based on the results, appropriate corrective actions should be taken and preventive controls should be implemented as necessary on an ongoing basis. These assessments should be facilitated by the Chief Data Office (CDO) and conducted with suitable support from other data governance bodies.
Training that equips people with the knowledge and skills relevant to data governance, data quality, and data architecture capabilities.
You don't have to do it alone
A data strategy initiative is a significant undertaking that must provide measurable business value. You don't have to plan and implement your vision alone. OSTHUS can help you define a pragmatic data strategy that suits your organization's vision and needs. Our data and industry experts can guide you through problems, concerns, and questions while offering solutions for successful implementation.
For more details, please book an early appointment with our data strategy and governance experts at our OSTHUS website.
References
Mike Fleckenstein, Lorraine Fellows (auth.) - Modern Data Strategy (2018)
Sid Adelman, Larissa Moss, Majid Abai - Data Strategy-Addison-Wesley Professional (2005)Data is now a business asset; as algorithms control every aspect of our lives these days, most businesses are becoming data businesses. According to our recent LinkedIn survey, 71% of respondents prioritize "Defining a Data Strategy."